In response to recent hydro-fracking enabling legislation, ad campaigns and spin led by ALEC and Big Oil surrogates in the Midwest (Michigan & Ohio).
"To waste, to destroy, our natural resources, to skin and exhaust the land instead of using it so as to increase its usefulness, will result in undermining in the days of our children the very prosperity which we ought by right to hand down to them amplified and developed."
- Theodore Roosevelt, in a Speech to Congress on December 3, 1907

"[Conservation] is the chief material question that confronts us, second only and second always to the great fundamental questions of morality."
- Theodore Roosevelt, Proceedings of a Conference of Governors in the White House, May 13-15, 1908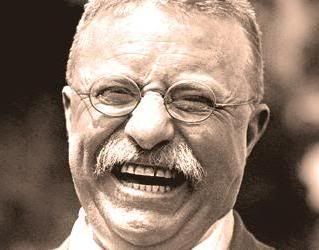 You Gotta Love Teddy: The Bull Moose Who Went to Bat
for America's Natural Treasures (Theodore Roosevelt National Achieves c.1910)
Memorial Day and its participants, those steadily declining visages of past conflicts like the Spanish-American War of Teddy's day to today's World War II veterans who have been hailed as the Greatest Generation, remind us all that a precious and hard won victory over oppression and an evil corporate-run government in the hands of foreign tyrants was secured by a stupendous act of redemption-not only for America, but the entire world.
One
writer has lamented
the deterioration of that honor, the tarnishing of heroic valor, the death of that victory, due to the excesses of the corporatist control of all levels of state and federal governance, the sorry state of affairs we now face:
"Back when people were actually almost "free" (immediately after WWII), when public education was not just another empty promise - and the trend in life was toward a better tomorrow for everyone - at that time 'control' was in retreat, and progress was the theme of every hour. Now what we have is control of every idiotic facet of everyday existence - rules for every waking act, every thought that is not controlled is seen as the enemy of the state (the corporatocracy).

"Our entire way of life has been stolen and shall never return to the lazy and hopeful days of living and loving, of joy and promise, with the possibility for doing real and meaningful things with one's own life - not to mention being able to envision a better world for more and more people - whose lives were so far below the levels we enjoyed.

" Instead of that promise, instead of that possibility - what we have now is the outright worship of Mistrust, of Fear, and of Paranoia - along with obscene profits for those who have purchased all the politicians, and who control every facet of this once nearly free society.

"If American life were a sporting event - today's game would be one in which all the officials and the referees had all been pre-purchased by what would obviously be the winning team. Now companies 'police' their own activities, deciding for themselves when they've gone too far - or stolen too much. The original point behind government providing a watchdog over industry - was to keep the playing fields equal - between players and owners."
(emphasis added)
The writer is on the right scent.
Take the following example from a
Nation of Change
article entitled "
ALEC Slips Exxon Loophole into New Ohio Law
":
"Wake up and smell the frack fluid. But don't ask what's in it, at least not in Ohio, cause it's still not your right to know. Ohio is in the final stages of making an Exxon trojan horse on hydrofracking into state law, and it appears that the American Legislative Exchange Council (ALEC) connected Exxon's lawyers with co-sponsors of Ohio Senate Bill 315: at least 33 of the 45 Ohio legislators who co-sponsored SB 315 are ALEC members, and language from portions of the state Senate bill is similar to ALEC's 'Disclosure of Hydraulic Fracturing Fluid Composition Act.'...disclosure of fracking fluids? On behalf of ExxonMobil?

Frack fluids include unknown chemicals that gas drillers mix with sand and large amounts of water. The mixture is pumped underground at high pressure in order to retrieve gas and oil by fracturing shale formations. These are the chemicals that have caused widespread concern among residents near gas fracking operations; concerns echoed by doctors who don't know how to treat patients harmed by exposure to chemicals that oil companies keep secret. Oil companies like XTO Energy, a subsidiary of ExxonMobil, the first company lined up to drill in Ohio's Utica shale."

(emphasis added)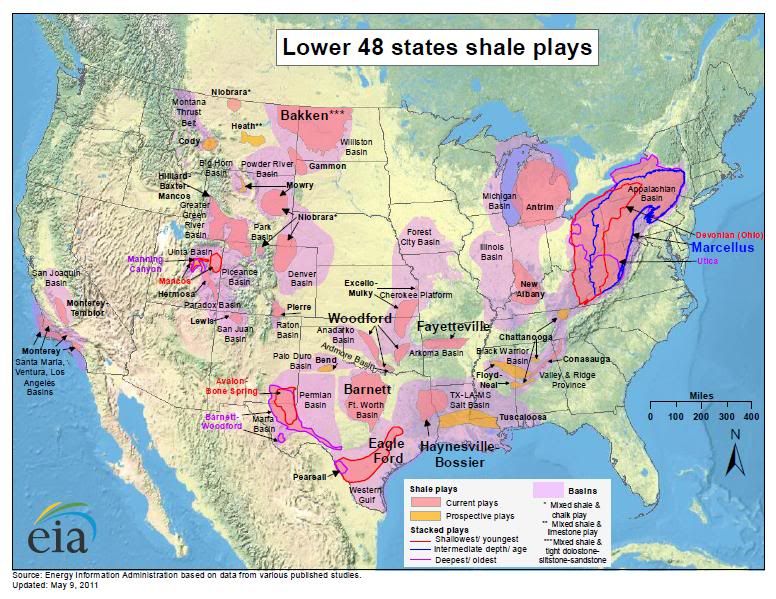 Milking Mother Michigan: Fracking (Shale Sands) Map
of the Lower 48 US States (US Energy Information Agency May 2011)
The blatant use of power and immense amounts of cold,
secret cash to push aside the welfare and rightful concerns of the population
in order to accomplish whatever is in the Corporatists' self-interest is best shown in the ongoing activity of the
Koch Brothers cabal
comprised chiefly of the
Americans for Prosperity
and The
American Legislative Exchange Council
.
It has become exposed and shown to the public that things so dastardly are being rammed through blindsided/defenseless state legislatures by A.L.E.C. members in those bodies, and ALEC's fellow travelers, that many premiere brands, former sponsors and supporters of ALEC, have bailed out of this corporate-owned and operated 'plug and play' Rad Right legislative mill.
What a blow to ALEC to have Walmart, Coke, Blue Cross and so many other familiar brands and corporations pull out of the Koch Bros. American Legislative Exchange Council. Yet here in Michigan A.L.E.C. powers on. The
Mackinac Center for Public Policy
joyfully and recently submitted in its own suggested boilerplate legislation, developed here in Michigan, to be promoted by ALEC nationwide.
US Rep.
Dave Agema
, a Michigan ALEC member and a Rad Right Screaming Eagle, succeeds, with the backing of the Koch's crowd, becoming Michigan's upstart male
National Republican Committee
member. Little wonder, when over 100 past or present members of the Michigan Legislature are /or have been complainant ALEC members.
Business Trumps Nature Leaving Just Stumps: When Michigan Big Business gets it all - Statewide Clear Cutting of Millions of Acres in the 1880-90's (Upper Peninsula Lumbering Operations Anon c.1880)
How do you suppose Michigan Koch-Heads will handle our fracking questions when the time comes to regulate (OR NOT) the fracking permits and permissions so intensely sought by Koch oil and other such interests? Last century rich investors left the face of Michigan a stubble of stumps, but the fact is nobody knows what toxic fluids flow through far flung fracking pumps.
Michigan families and their many out state guests have enjoyed its wealth of nature, pure beauty, fertile soils, and its bounty and plenty.

Who cares? We care!
Our state, with its tremendous water resources, must care; it's our wonderland heritage won and protected by heroes and workers, farmers and tradesmen, now so blatantly threatened by the overweening Corporatocracy and the greed of the rich and powerful 1%.
What the Frack? Will the Koch Brothers blast TDR off Mt Rushmore too?
On the Reader:
Related Slates:
More of Teddy Roosevelt and ALEC in the Gazette.
Original.